Product Description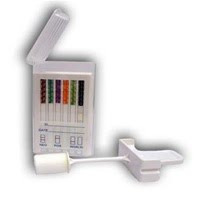 Oral Cube is a revolutionary one step saliva drug and alcohol test that is designed to detect recent drug usage and can detect configurations of 10 drugs of abuse Oral fluid drug screening has certain advantages over the screening of other human fluids such as urine and blood. Saliva (Oral fluid) is normally an easy sample to collect and is much less likely to be adulterated, unlike urine. With oral fluid tests the drugs may be identified immediately after being used.
Oral Cube is a newly designed on-site oral fluid saliva drug and alcohol test that makes the test procedure simple and easy to perform. In the past saliva drug testing products have been hard to use and confusing. Oral Cube makes it easy, the swab slides in and out of the test kit: out for application and back in for test results. Make sure that the swab has enough saliva to initiate the test, as it must be completely saturated with the saliva specimen. The Oral Cube test kit will then do the work getting the saliva oral specimen from the swab to the detection chamber and results will follow.
FEATURES & BENEFITS
Easy and convenient
A simple 2 piece packaged device
No more controlled collection sites
Observed Collections, hard to adulterate
No more collection fee's
Read alcohol results at 2 minutes
Read results at 10 minutes, not valid after
Order qualifies for free ground shipping!
SUPPORTING DOCUMENTATION

Oral Cube Saliva Drug Test Package Insert
Instructions: Simply place the collection sponge in the donor's mouth for 3 minutes, and then place it in the collection cube. Keep the cube upright and close the lid, compressing the sponge inside.
Drug Test Panel
Calibrator
Cut-off Level
Alcohol (ALC)
Alcohol
> 0.02% B.A.C.
Amphetamines (AMP)
D-Amphetamine
50 ng/mL
Barbiturates (BAR)
Secobarbital
300 ng/mL
Benzodiazepines (BZO)
Oxazepam
50 ng/mL
Buprenorphine (BUP)
Buprenorphine
10 ng/mL
Cocaine (COC)
Benzoylecgonine
20 ng/mL
Methamphetamine (mAMP)
D-Methamphetamine
50 ng/mL
Methadone (MTD)
Methadone
75 ng/mL
Opiates (OPI)
Morphine
40 ng/mL
Oxycodone (OXY)
Oxycodone
50 ng/mL
Phencyclidine (PCP)
Phencyclidine
10 ng/mL
Marijuana (THC)
11-nor-Δ9-THC-9 COOH Δ9-THC
12 ng/mL or 75 ng/mL
For a final confirmation, we recommend a certified LC/MS/MS Lab confirmatory test for a 99.9% accuracy rate.
Product Videos
Custom Field
Product Reviews