Product Description
Introducing the most reliable and cost effective 5 Panel Drug Screen Cup from DrugTestingForLess. All the administrator needs to do is simply peel the label and view the testing results! View more cup panel configurations here!
Excellent Design
Patent-pending multiple drug screening cup
Simple procedure with no additional steps required to activate test
Screw lid for non-leakage
Test format from 5-14 drugs per cup plus up to 6 adulterants
Customized configurations available
Two flat sides for easy photocopying of results
Reliable Results
Easy-to-read result displayed in strong color code
Long-lasting results stable for up to 1 hour
99% accuracy compared to GC/MS data in the clinical comparison studies
24 Month Shelf Life from Date of Manufacture
Set to SAMHSA Cutoff Levels
FDA Approved & CLIA Waived
Download & Print Reference Documents

Multi-Drug CLIA Waived Cup Package Insert
5-Panel Configurations with Adulteration
| | | |
| --- | --- | --- |
| Order Number | Panel Configurations (Choose above) | Adulterants |
| HCDOAF-254A3 | THC, COC, OPI2000, AMP, MET | OX, SG, pH |
FDA 510(k) & SAMSHA Approved CLIA Waived Drug Panels
Drug Name
Abbreviation
Cutoff Level
Minimum Detection Time in Urine*
Maximum Detection Time in Urine*
Calibrator
Amphetamines
AMP
1000 ng/ml
2-7 hours
2-4 days
D-Amphetamine
Amphetamines
AMP
500 ng/ml
2-7 hours
2-4 days
D-Amphetamine
Barbiturates
BAR
300 ng/ml
2-4 hours
1-3 weeks
Secobarbital
Benzodiazepines
BZO / BZD
300 ng/ml
2-7 hours
1-4 days
Benzoylecgonine
Buprenorphine
BUP
10 ng/ml
2-3 hours
1 day
Buprenorphine
Cocaine
COC
300 ng/ml
1-4 hours
2-4 days
Benzoylecgonine
Cocaine
COC
150 ng/mL
1-4 Hours
2-4 Days
Benzoylecgonine
Ecstasy
MDMA
500 ng/ml
1-3 days
1-2 days
D,L- Methylenedioxy-methamphetamine
EDDP
EDDP
300 ng/ml
1-4 hours
2-4 days
2-Ethylidene-1,5-dimethyl-3,3-dipheylpyrrolidine
Marijuana
THC
50 ng/ml
2 hours
up to 40 days
11-nor-∆9-THC-9 COOH
Methadone
MTD / MAD
300 ng/ml
3-8 hours
1-3 days
Methadone
Methamphetamine
mAMP / MET
1000 ng/ml
2-7 hours
2-4 days
D-Methamphetamine
Methamphetamine
mAMP / MET
500 ng/ml
2-7 hours
2-4 days
D-Methamphetamine
Morphine
MOP / OPI-300
300 ng/ml
2 hours
2-3 days
Morphine
Opiates
OPI
2000 ng/ml
2 hours
2-3 days
Morphine
Oxycodone
OXY
100 ng/ml
1-3 hours
1-2 days
Oxycodone
Phencyclidine
PCP
25 ng/ml
4-6 hours
7-14 days
Phencyclidine
Propoxyphene
PPX
300 ng/ml
1-2 days
N/A
Propoxyphene
Tricyclic Antidepressants
TCA
1000 ng/ml
8-12 hours
2-7 days
Nortriptyline
* Detection times are not guaranteed. Reference configuration above for included drug panels. This assay provides only a preliminary analytical test result. A more specific alternate chemical method must be used in order to obtain a confirmed analytical result. Gas Chromatography/Mass Spectrometry (GC/MS) is the preferred confirmatory method. Clinical consideration and professional judgment should be applied to any drug of abuse test result, particularly when preliminary positive results are indicated.
Adulterant Tests (Specimen Validity Tests) Summary
pH Level (pH) Tests for the presence of acidic or alkaline adulterants in urine. Normal pH levels should be in the range of 4.0 to 9.0. Values below pH 4.0 or above pH 9.0 may indicate the sample has been altered. Urine pH below 4 or above 9 indicates adulteration with an acidic or basic compound.
Specific Gravity (S.G.) Tests for sample dilution. Normal levels for specific gravity will range from 1.003 to 1.030. Specific gravity levels of less than 1.003 or higher than 1.030 may be an indication of adulteration or specimen dilution. In the presence of an indicator, the colors changes from dark blue to blue-green in urine of low ionic concentration to green and yellow-green in urine of higher ionic concentration.
Oxidants (OXI) Tests for the presence of oxidizing agents such as bleach and peroxide in the urine.
Nitrites (NIT) Tests for commercial adulterants such as Klear and Whizzies. Normal urine specimens should contain no trace of nitrite. Positive results for nitrite usually indicate the presence of an adulterant.
Creatinine (CREA) Creatinine is one way to check for dilution and flushing, which are the most common mechanisms used in an attempt to circumvent drug testing. Low creatinine may indicate dilute urine.
Glutaraldehyde (GLUT) Tests for the presence of an aldehyde. Glutaraldehyde is not normally found in a urine specimen. Detection of glutaraldehyde in a specimen is generally an indicator of adulteration.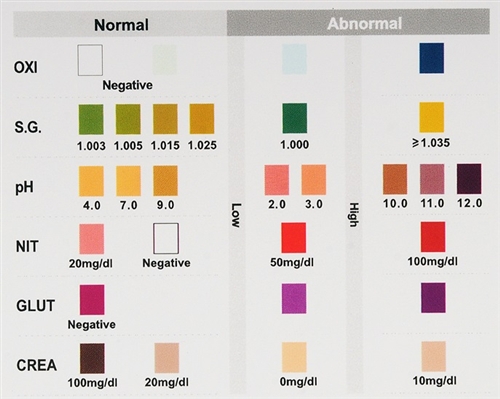 Product Videos
Custom Field
Product Reviews